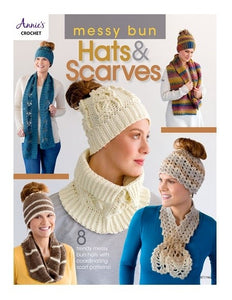 Messy Bun Hats & Scarves Crochet Patterns
Hats are worked from the top-down, or bottom to top and even side to side. All include an opening at the top of the crown for a pony-tail or messy bun. Matching scarves include long wrap-around type and cowls.
Sizes:
Hats – 18" to 22" circumference

Scarves range from 8"W x 62"L to 10"W x 56 1/2"L

Cowls range from 8"W x 32" circumference to 11"W x 36" circumference.