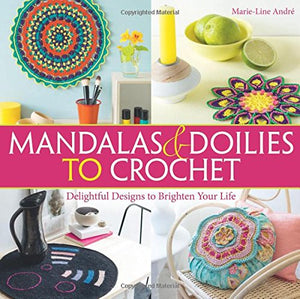 Mandalas & Doilies to Crochet
Surround yourself with color, texture, and beauty-shape these lovely mandalas into bags, earrings, rugs, and cushions, or let them stand on their own as enchanting handmade works of art! 
Mandalas and Doilies to Crochet
 tips its hat to the sixties, but adds a truly modern twist, with brilliant colors, clever projects, and dozens of easy patterns to add to your craft collection. With earthy colors and natural shades to soothe and calm, jewel tones or a splash of neon to brighten, and quick step-by-step instructions, it's impossible to stop at just one!