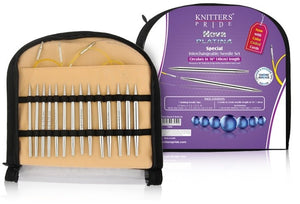 Knitter's Pride Nova Platina Interchangeable Special Needle Set - 16" (40cm)
Knitter's Pride Nova Platina needles are engineered from hollow brass pipes and plated in Chrome for a lightweight, smooth, and slippery needle. The tips are now pointer and more tapered, which means it's even great for knitting lace!
Interchangeable needles allow for range of circular needle lengths by attaching different length cords to the needle tips.  The short tips are designed to work with the shortest cord to give a 16" circular needle, which is perfect for hats, narrow cowls, and baby sweaters.  The set includes 7 sets of needles (3.5, 3.75, 4.0, 4.5, 5.0, 5.5, 6.0 mm), 2 x 16" cords, 4 end caps, 2 cord keys, and a plastic case.