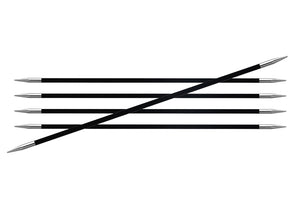 Knitter's Pride Karbonz DPNs - 20 cm (8")
Knitter's Pride Karbonz needles are made from high-tech carbon fibre with tips of electroplated brass to create a lightweight and flexible but incredibly strong needle.  The pointy metal tips are smooth for quick knitting, and the carbon fibre shaft keeps the needles from falling out of your knitting!

Needle sizes range from 1.0 mm to 3.75 mm.