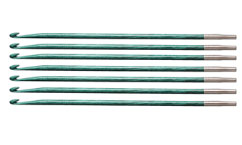 Knitter's Pride Dreamz Tunisian Crochet Hooks with Interchangeable End
Knitter's Pride Dreamz Interchangeable Tunisian hooks are made from the same beautifully smooth finished laminated birch as their knitting needles.  The handle of these hooks are long for smaller tunisian crochet projects, and with the interchangeable end allows you to add a cord to for any larger projects.

Hooks range in size from 3.5 mm to 15 mm.