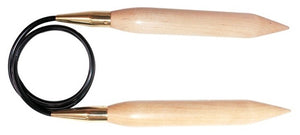 Knitter's Pride Basix Jumbo Fixed Circulars - 100 cm (40")
Knitter's Pride Basix needles are lightweight and warm, with a smooth surface to prevent catching.  The connectors are 24 karat gold plated and have a smooth join with the needle, so no snagging!  The cords are resilient and flexible, and great for doing magic loop.
Needle sizes range from 12 mm to 25 mm.