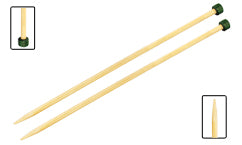 Knitter's Pride Bamboo Straight Needles - 25 cm (10")
Knitter's Pride Bamboo needles are made from the finest quality of Japanese bamboo with a lovely smooth finish.  The needles are lightweight, strong and flexible with a high tensile strength, that are warm to the touch and perfectly tapered tips.
Needles sizes range from 2.0 mm to 9.0 mm.