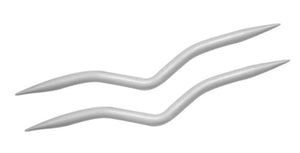 Knitter's Pride Aluminum Cable Needles Set Of 2 (Large)
These cable needles are useful for securely holding stitches when cabling.  The smooth tapered tips allow stitches to slip easily on and off and the shape keeps the needles away from your work for easier cabling. 
Pack contains 2 sizes: 6 mm and 8 mm.