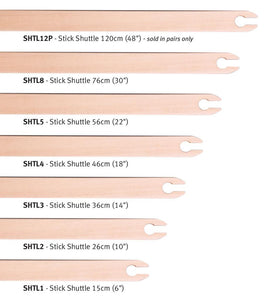 Ashford Stick Shuttles
For all your weaving projects. 
Available in seven sizes:
STHL1 - 15cm/6"
SHTL2 - 26cm/10"
SHTL3 - 36cm/14"
SHTL4 - 46cm/18"
SHTL5 - 56cm/22"
SHTL8 - 76cm/30"
SHTL12P - 120CM/48" (sold in pairs)
Width: 3.5cm/1⅜"

Limited stock available in store.  Special orders can be placed. Contact the shop to make arrangements.
Made from Silver Beech hardwood.
Natural finish.