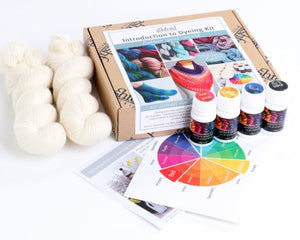 Ashford Introduction to Dyeing Kit
This kit is a great way to get started on dyeing yarns and fibres. Have you been curious about making your own beautiful hand-dyed yarns?  Then why not try out the Ashford Introduction to Dyeing Kit!
Ashford wool dyes are perfect for dyeing all protein fibres, yarns and even fabrics - as long as it is a protein fibre our dyes will dye it! You can use on Wool, Silk, Cashmere, Mohair, Angora, Llama, Alpaca, Vicuna, Feathers and any other protein fibre you can think of. The only mordant required is white vinegar. You can use the microwave method, stove top, slow cooker or steam methods for Ashford dyes.
The kit includes the following:
1 x Ashford Wool Dye Hot Pink 10g
1 x Ashford Wool Dye Yellow 10g
1 x Ashford Wool Dye Black 10g
1 x Ashford Wool Dye Blue 10g
2 x 100g Skeins of undyed Yarn - 75% Wool 25% Nylon, 4 ply fingering weight, 100g net at standard condition / 400m (437yds). Machine washable. Tension 10cm (4") square =26–28 sts x 36 rows 2.75 – 3.25mm (2 – 3 US)
Instructions - including colour theory and colour recipes
Colour wheel