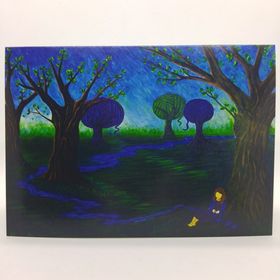 Yarn Wonderland Art Card
In 2018, Itsy-Bitsy commissioned Maya Rosenberg of Art by Maya to paint a mural on the wall beside the store. She created "Yarn Wonderland", which captures the magic, kindness, colours, textures, and creative wonderland we get drawn into when we make what we love.


I absolutely love this piece. The whimsy of the yarn ball trees, the knit stitch leaves, and the knitter peacefully knitting the river in a deeply saturated world just draws me right in.
And now, you can have a copy of this inherently temporary work to send to someone special! Hopefully this art piece also reminds you of what you love and your own wonderland!