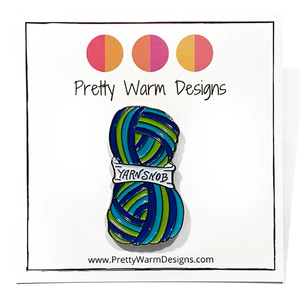 Yarn Snob Enamel Pin
We all have our favourite yarns, and you can proudly declare your yarn snobbery (in the best way) with this funny little enamelled pin!  
This design is by Heather of Howling Hills Studio, sold here with her permission.
Enamelled Pin Features:

Blue, green and white enamel on silver background.
Rubber pin back.
Approximate size: .75" wide x 1.25" high.