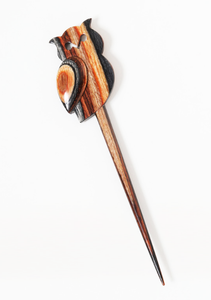 Sleepy Owl Shawl Pin
Exhibit your favorite creature or flower and keep your beautiful shawl or scarf in place with one of these whimsically designed straight shawl pins. Executed in colourful and strong laminated birch wood by Knitter's Pride, the one-piece design will keep your creation secure and make you smile. This type of pin works well with heavier weight yarns.
This version of our Shawl pin has a coordinated "circle" that acts like a buckle and creates a very secure hold that keeps the shawl in place. This version works best with lighter weight shawl or scarves.