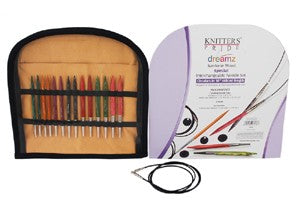 Knitter's Pride Dreamz Interchangeable Special Needle Set - 16" (40cm)
Knitter's Pride Dreamz needles are lightweight and warm, with smooth polished wood surface that is not too sticky, nor too slick.  These needles come in a range of colours and have quite pointy tips.
Interchangeable needles allow for range of circular needle lengths by attaching different length cords to the needle tips.  The short tips are designed to work with the shortest cord to give a 16" circular needle, which is perfect for hats, narrow cowls, and baby sweaters.  The set includes 7 sets of needles (3.5, 3.75, 4.0, 4.5, 5.0, 5.5, 6.0 mm), 2 x 16" cords, 4 end caps, 2 cord keys, and a plastic case.