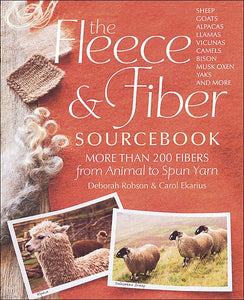 The Fleece & Fibre Sourcebook
This one-of-a-kind encyclopedia shines a spotlight on more than 200 animals and their wondrous fleece. Profiling a worldwide array of fiber-producers that includes northern Africa's dromedary camel, the Navajo churro, and the Tasmanian merino, Carol Ekarius and Deborah Robson include photographs of each animal's fleece at every stage of the handcrafting process, from raw to cleaned, spun, and woven. 
The Fleece & Fiber Sourcebook
 is an artist's handbook, travel guide, and spinning enthusiast's ultimate reference source all in one.