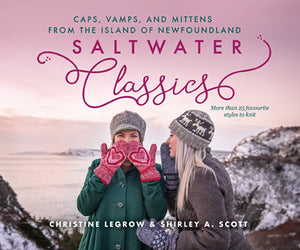 Saltwater Classics
Caps, Vamps, and Mittens from the Island of Newfoundland: 
Saltwater Classics
More than 25 favourite styles to knit 
by Christine LeGrow & Shirley A. Scott
From the top of your head to the tips of your toes, Saltwater Classics will keep you toasty warm with beautiful hand-knitted hats, mitts, gloves, socks and vamps. This follow-up to the best-selling Saltwater Mittens is collection of Newfoundland's best loved knitwear. Along the way, authors Christine LeGrow and Shirley Scott sprinkle their own creative flair while presenting their stunning patterns.
From salt-and-pepper cap to boot socks, and from trigger mitts to vamps (slippers), this book has something for everyone. All patterns are rated by difficulty and clearly presented for today's knitters.
The dozens of colour photographs will inspire you to make your own bold colour choices. They will also encourage you to go outside and face the elements in your new cozy pieces. Featuring tips, tricks, and tales, Saltwater Classics is a book for everyone.