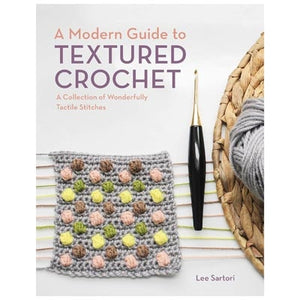 A Modern Guide to Textured Crochet
By Lee Sartori
Crocheters looking for more texture, depth, and contemporary design will delight in this colourful new guide. Aimed at the experienced beginner to intermediate level crocheters with some extra ideas aimed at more advanced makers, the book covers a variety of textured crochet techniques--from the straightforward to the more complex and unusual - -along with beautiful projects designed to showcase them.
Get ready to explore the beautiful textures that can be achieved with crochet--Bobbles, Popcorns, Clusters, Puffs and more. Each chapter guides you through a new stitch or stitch progression with photos, detailed instructions and diagrams to ensure you can follow along easily. In addition to simple, on-trend projects perfect for gifting or use in your home or wardrobe, you'll find useful tips for saving time and troubleshooting, and additional ideas to explore.
Written by Ontario based author Lee Sartori, known for her work with Happily Hooked Magazine, and her Instagram profile Coco Crochet Lee.